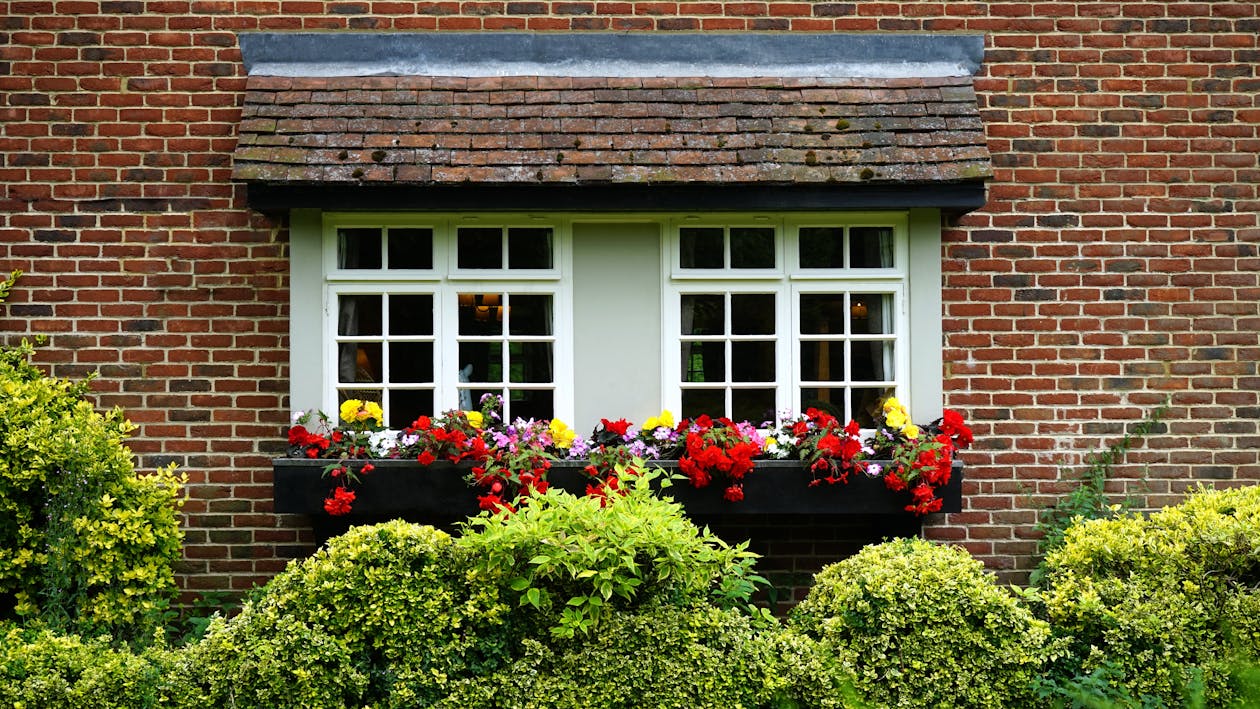 It's officially spring! Temperatures are rising and the trees and plants are beginning to show signs of life again. If you are trying to sell your home this spring or summer, it's probably a great idea to start adding a little curb appeal to the mix. Doing this will increase potential buyers' interest and help you sell your home faster!
Here's a few quick tips on simple landscape ideas that will really add value and interest to your home!
1. Window Planters
Make a trip to Home Depot or Lowe's one Saturday and make a day out of putting together window planters that will add a little character to your house. Planters are incredibly easy to install and put together. Trust me – if I can do it, anyone can! You can even build your own planters with recyclable wood, if you're feeling extra crafty!
Think about the outside color of your house and what color of flowers that you'll need to match it. Remember that adding a pop of color is your main goal with this project! It'll draw attention to your house as drivers pass along, which is exactly what you want! Pick colors of flowers that coordinate, but also contrast in a manner that's noticeable. I love how the color beige is mixed with hues of lavender and bright pink in the example above! The pop of red in the door corresponds with the red flowers as well, which brings attention to an otherwise "plain" house.
2. Shrubbery
A few larger plants underneath your porch/windows are easy to maintain and still add the look that you want when showing your house. As you can see, there's about four plants mixed together in an organized fashion here, most of which are low-growing. You don't want something that's going to need maintenance every five minutes. Otherwise, this entire project becomes a burden. Overgrown plants are never a great look when trying to sell a home.
Get a few shrubs that are appealing to buyers, but still easy enough to take care of. No buyer wants to come in, knowing that they'll have to keep up the Secret Garden that you started. You want your house to look inviting, but not difficult to take care of. That's why small shrubs and larger plants are a great option!
3. Flower beds
Creating a flower bed is going to require: mulch, dividers, and a plethora of flowers. With that being said, you don't have to get crazy with it. A nice looking flower bed with a few different varieties is easy to maintain and gives potential buyers the option of adding more plants to the mix, should they choose to do so.
Flower beds make a house feel like a home. Nicely done ones are sure to pull buyers in, since they are ultimately a manner of outside decor. Lush green plants and brilliant hues of red, yellow, blue, purple, and pink are sure to attract the attention you want from a potential purchaser. The more welcoming that your home looks, the more likely that you are to sell it quicker.
Let your creative side shine in this project. You'll be sure to wow everyone around you!
4. Porch Planters
Porch planters are probably the simplest to execute out of all of these landscaping projects. There's no installing parts and pieces, no getting down in the dirt with a shovel, and no sweating all day in the sun. You can easily sit on your back porch and put together a few planters that will need limited care.
You want your planters to look full, so mix a variety of flowers together that are leafier than others. I love that these planters have a climber that hangs off the edge, as well. The overgrown look is completely acceptable for your planters. Although, it's completely up to you how you decide to style them. Some people prefer their planters to only have one well-manicured species, while others prefer messier wildflowers.
The choice is yours to make! Regardless, planters make a great edition to welcome potential buyers to your home.
5. Sod
I'll say it: Sod is often a necessary investment that you'll need to make if you want to sell your home. While many believe that paying for greener grass isn't cost-effective, it will be in the long run. Sod adds value to a home because it honestly makes one of the biggest differences in terms of how your house looks from the outside. 
If your grass is going bald, you're going to need to spend a little money and get some sod (at the very least, in the front of your house). This picture demonstrates the power of sod. There hasn't been any other changes done to the home, except for the grass. Suddenly, the house looks completely different and much more valuable.
You see what I'm saying?
Laying sod down can be done by either yourself or by a professional. Either way, this is a project that is sure to bring a higher selling price to your home!